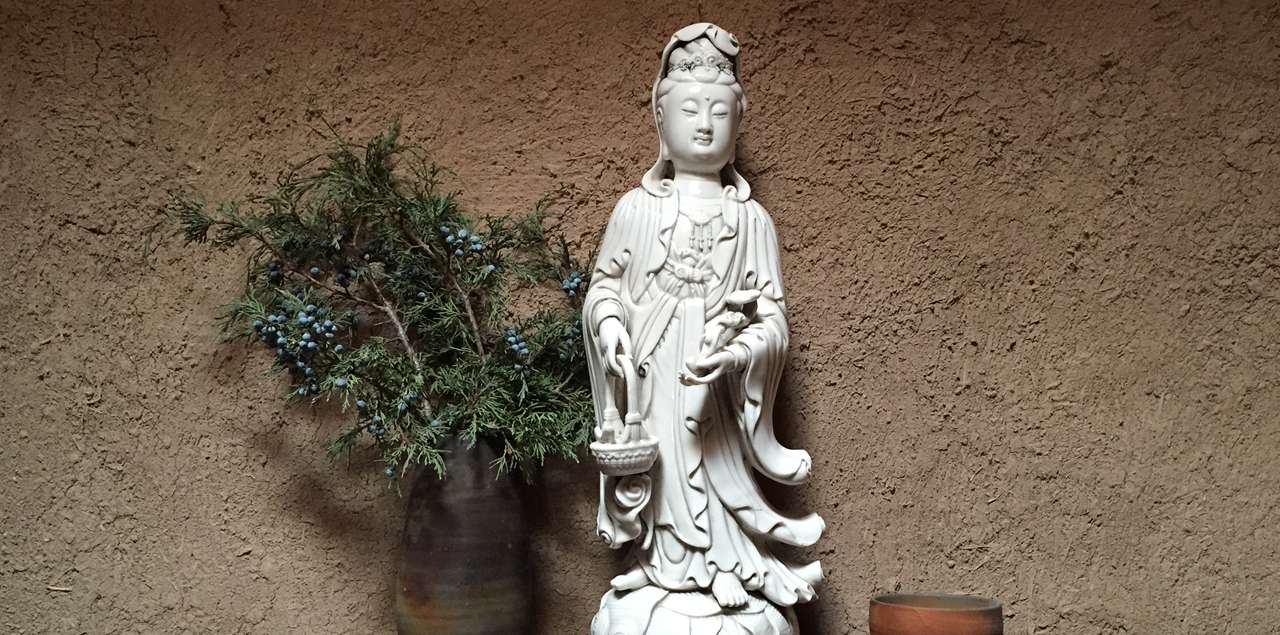 Personal Retreats
Personal Retreats at Mountain Gate-Sanmonji are a wonderful way to combine quiet time and spiritual inspiration. Retreats are an opportunity to enjoy your own natural rhythms in an extraordinary setting. A retreat might include time for writing, meditation, yoga, study, reading, or simply quiet time away from the normal routines of your everyday life.
At Mountain Gate, you will find a natural and contemplative environment conducive to rest and renewal. On your retreat, you are free to schedule your own time or, if you wish, we can provide suggestions for retreat schedules. You are always welcome to join our meditation sessions and seasonal gardening.
Those on personal retreat provide their own food and prepare their own vegetarian meals. Bedding is supplied. Retreatants may use the library, meditation room and other areas.
Mountain Gate is located in a beautiful valley in the Sangre de Cristo Mountains of northern New Mexico, immediately adjacent to the Carson National Forest. There are hiking trails nearby as well as in Bandelier National Monument and the Valles Caldera National Preserve in the Jemez Mountains.
Due to our schedule of sesshins, Mountain Gate is not always available for personal retreats. In addition, we are in the midst of expanding our facilities, so there may be periods when construction is going on. If you are interested in spending time at Mountain Gate, please send us an email through the contact form below. Be sure to include your requested retreat dates. If you are flying to the area, you will need to rent a car to get to Ojo Sarco, which is about two hours north of Albuquerque.
Things to Know
Quiet time—From 4:30 a.m. to 7:30 a.m. weekdays; 6:15 p.m. to 9:30 p.m. weekdays; and 8:30 a.m. to 11 a.m. Sunday are times when our members are using the meditation room. Out of respect for house residents we ask that noise be kept to a minimum after 9 p.m.
Vegetarian food only—We do not serve meat, fish, or poultry at Mountain Gate and ask that no one bring such foods into the temple or onto Mountain Gate's grounds.
Alcohol & drugs—The consumption of any type of alcoholic beverage and the use of recreational drugs is prohibited at Mountain Gate.
Smoking—Smoking is not permitted in any of the buildings or on the grounds.
Shoes—We do not wear outdoor shoes in Mountain Gate's buildings, however visitors are welcome to wear house slippers.
Pets—It depends. Please check with us before bringing a pet.
Fire precautions—Due to the danger of fire, candles can only be used in the meditation areas.
Strong smells—We ask that visitors not use strong perfumes, shampoos, or cosmetics because their smells can permeate fabrics and linger. We have members and guests who have strong allergic reactions to these scents, including incense.
Cleaning up—Mountain Gate has no housekeeping service and retreatants are asked to leave the temple room as it is found: clean and ready for the next person. This includes removing your sheets and pillowcases and remaking the bed with clean linens.

Accommodations

We are now using the Kannon-do, a separate building removed from the main building, for private retreats. There is a private bathroom and kitchen in the Kannon-do.

If you are interested in staying at Mountain Gate, please call us or send an e-mail to inquire about room availability. Mountain Gate is closed periodically due to sesshin and other activities.

Rates

All rooms are $50/day per person for stays of up to one week. Sorry, but we are unable to accept credit card payments for retreats. Payment must be made at the time of your visit by check, cash or money order.