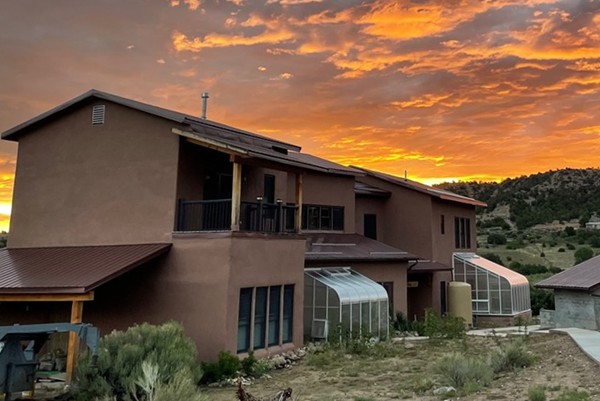 Program Support for Mountain Gate
In making your donations, you are supporting these important programs:
Mountain Gate offers spiritual support, guidance and a full schedule of sesshin [traditional meditation retreats] for those engaging in or wishing to engage in Zen Buddhist meditation.  
At Mountain Gate we also provide, through our nonsectarian outreach program, special free RegainingBalance retreats for women veterans suffering from PTSD.
Your program makes a difference in many veterans' lives.


—New Mexico VetConnect
---
This essential expansion has made it possible to offer RegainingBalance Retreats for Women Veterans with PTSD to twice as many women right when more participants are applying; it also makes it possible to offer sesshin [meditation retreats] to more Zen meditation participants.
Kannon-do
At Mountain Gate we have an additional essential building we call the Kannon-do, or Hall of Compassion; it was purchased thanks to a generous private mortgage many years ago, and has since been paid off. The building consists of a very old and failing house trailer with a free-standing addition that was never completed and has not weathered well. The house trailer has been deemed "an accident waiting to happen" by people who know such structures. We have suffered two major and expensive pipe breaks due to the inadequate construction in both parts of the building, and it is only a matter of time before more major problems arise.
That said, it provided us with a kitchen with running water when we didn't have one in the main building, as well as a small meditation room and extra space for a few more sesshin participants to sleep. The women veterans attending our RegainingBalance retreats stayed there. More recently we have used it as overflow for the main building, as well as a space for solo retreats and for guests such as the parents of one of our out of town members; while he attended both of the dual sesshins full time and stayed in the main building, his parents joined part time in our April sesshin and stayed in the Kannon-do.
Now that the main building expansion has been completed we need to turn our attention to saving the Kannon-do. The trailer will be given away to a local person who can use it and will remove it. The poorly built addition will be enclosed, insulated and expanded so that it can more effectively serve the purposes it has helped so much with in the past.
Your support makes a difference!