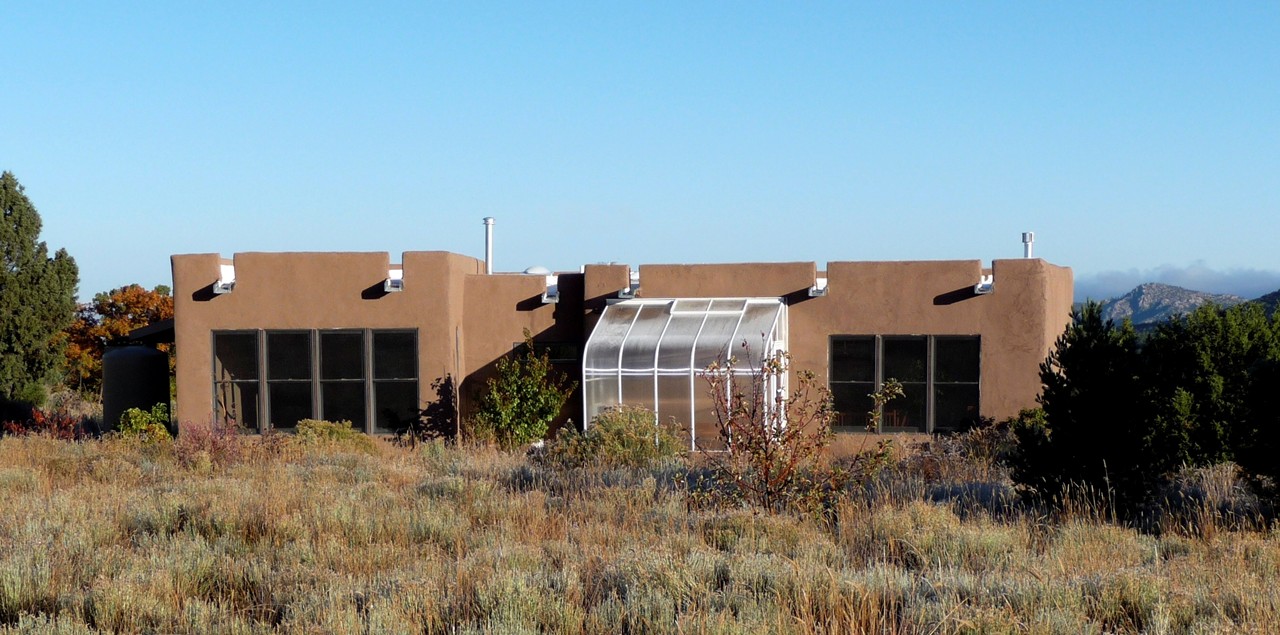 The Land
Mountain Gate-Sanmonji was established in 1996 by Mitra Bishop, Roshi on her return from Japan where she had been training at Sogen-ji Monastery. She had felt a strong affinity with land outside of Santa Fe ever since living there in the 1980's. The temple is located in a beautiful valley in the Sangre de Cristo Mountains of northern New Mexico, immediately adjacent to the Carson National Forest.
After purchasing the land in Ojo Sarco she felt so drawn to, two members came to live on the property and help develop it. At the time, Roshi was living in an ancient travel trailer. They laid out the lines for a new zendo (meditation room), which was the first structure built on the land. It was constructed entirely with volunteer labor using the traditional adobe building methods of the area.
First Extended Sitting
The first sesshin was soon held, even before the zendo was finished. It was January, and the temperature often dipped below freezing. The hardy participants sat by kerosine lantern light with only a mud floor in the meditation room and construction materials piled high. The old travel trailer was used for women's housing and the men slept in the zendo. There was one outhouse. It was clear that more building space was needed.
Construction
The next phase of construction began later that year and added an indoor bathroom, an entryway foyer, two bedrooms, a storage closet, and a multi-purpose room, which served as the dining room, library, instruction room, and teacher's quarters. At that point the trailer—which had also been the kitchen—failed, and a small outbuilding with electricity, but no running water, was quickly built. That became the kitchen, and the need to haul water quickly taught everyone the importance of being careful of every drop. Throughout the construction and even in the midst of it, extended sittings were held.
Running Water
Finally, in 2005 adjacent land, which had a small trailer plus addition—with running water!—became available and was purchased. This provided a kitchen, bedroom, bathroom, Kannon room, and dining area. However, the trailer is at some distance from the main building—and in inclement weather or after dark the hike to the kitchen can be dangerous.
New Addition
Once the land was paid off, attention was turned to expanding the 1500-square-foot main building so that there would be more bedrooms for retreats, an adjacent kitchen, an office, and an ADA bathroom. An architectural designer friend donated design work and full drawings for a beautiful, functional addition that will double Mountain Gate's space when completed. Eventually, bedrooms, baths, and common areas will be on an upper level. Updates on construction, along with the latest photos, can be found on Mountain Gate's Facebook page as well as on the website.
---